Creative Research in Wireless Mobility and Networking
The mission of the CReWMaN Lab is to conduct innovative research in networking (wireless, sensor, IoT, UAV), cyber-physical systems, smart environments (smart city, smart home, smart grid, smart healthcare), mobile and pervasive computing, parallel/distributed and cloud computing, security and privacy, machine learning, data analytics, biological and social networks, applied graph theory and game theory. This is accomplished by creating a stimulating learning environment through cutting edge teaching and research, mentoring and service excellence, and multi-disciplinary collaborations. CReWMaN offers extensive experience in research and education for graduate and undergraduate students.
CReWMaN Lab is founded and directed by Prof. Sajal K. Das.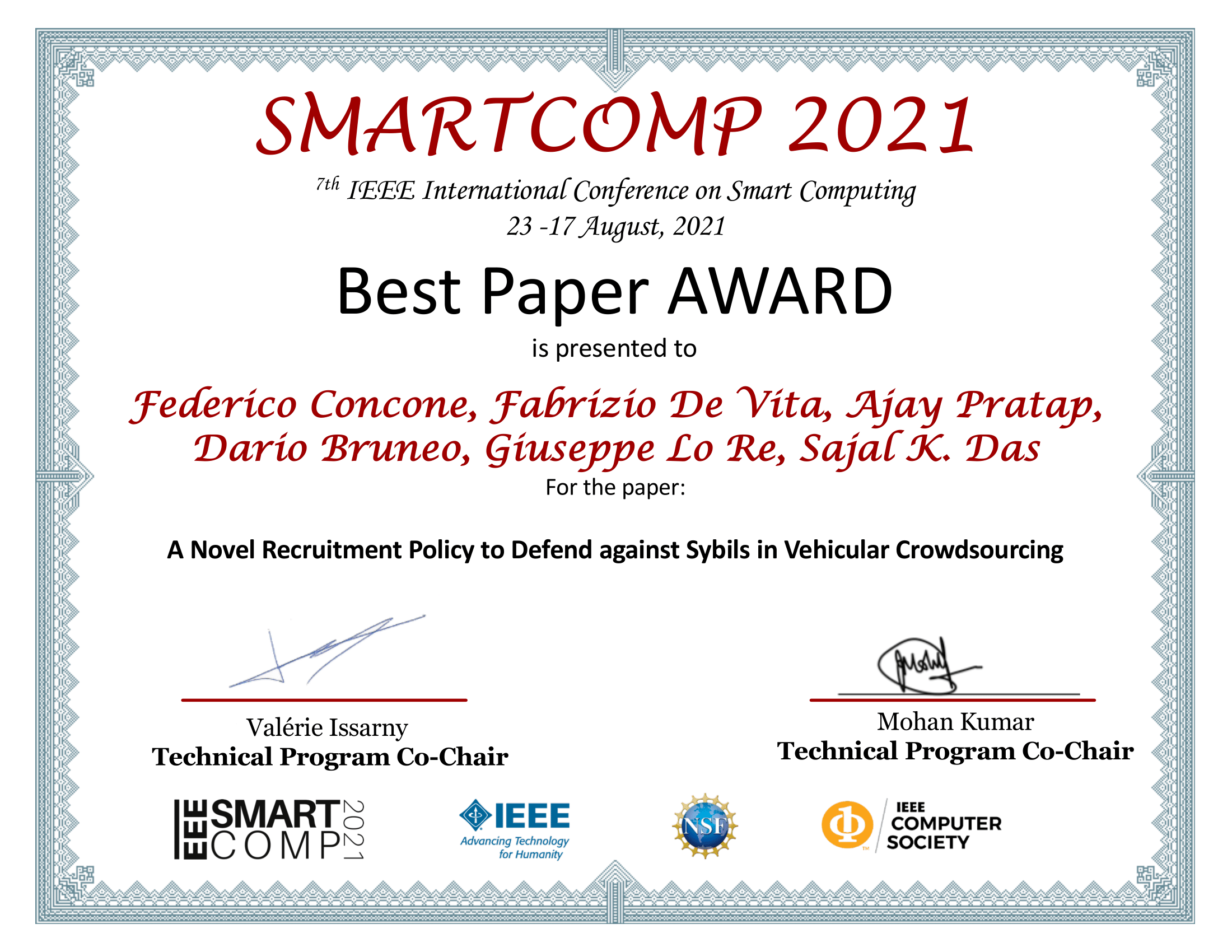 We are happy to announce that our following work won the Best Paper award at IEEE SMARTCOMP 2021.
F. Concone, F. De Vita, A. Pratap, D. Bruneo, G. Lo Re, and S. K. Das, "A Novel Recruitment Policy to Defend against Sybils in Vehicular Crowdsourcing," IEEE International Conference on Smart Computing (SMARTCOMP), Aug 2021.
Recently Accepted Papers
Ashish Gupta, Hari Prabhat Gupta, and Sajal K. Das. "FedAR+: A Federated Learning Approach to Appliance Recognition with Mislabeled Data in Residential Environments." In ACM/IEEE ICCPS 2023.
Priyesh Ranjan,Federico Coro, Ashish Gupta, and Sajal K. Das. "Securing Federated Learning against Overwhelming Collusive Attackers." In IEEE GLOBECOM 2022.
Arindam Khanda, Sanjukta Bhowmick, Xin Liang, and Sajal K. Das. "Parallel Vertex Color Update on Large Dynamic Networks." In 29th IEEE International Conference on High Performance Computing, Data, & Analytics (HiPC'22).
Ashish Gupta, Tie Luo, Mao V. Ngo, and Sajal K. Das. "Long-Short History of Gradients Is All You Need: Detecting Malicious and Unreliable Clients in Federated Learning." In Computer Security – ESORICS 2022. Lecture Notes in Computer Science, vol 13556. Springer, Cham. https://doi.org/10.1007/978-3-031-17143-7_22

S.M. Shovan, and Sajal K. Das. "Alz-Sense+: An Auto Time-synchronized Multi-class Algorithm for Dementia Detection". In 18th International Conference on Mobility, Sensing and Networking (MSN 2022).